Athens, Ga. – The Sign Brothers, based in Athens, Ga., was recognized as the 97th fastest-growing business owned or operated by a University of Georgia graduate during the 2018 Bulldog 100 Celebration Jan. 27 at the Hyatt Regency in Atlanta.
The Sign Brothers, led by 2002 UGA graduate Justin Seibert alongside his brother Michael Seibert, specialize in architectural and commercial signage.
The Bulldog 100, coordinated by the UGA Alumni Association, recognizes the 100 fastest-growing businesses owned or operated by UGA graduates.
Approximately 500 nominations were submitted for the 2018 Bulldog 100. The class includes companies of all sizes, providing services and products in a variety of industries, including restaurants, real estate, IT consulting, retail and veterinary medicine. Companies as far as California and Minnesota made the list. The average compounded annual growth rate for this year's Bulldog 100 businesses was 47 percent.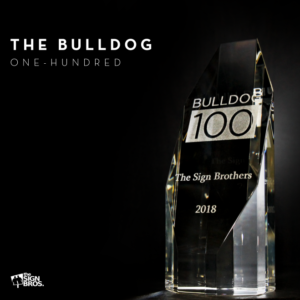 Warren Averett CPAs and Advisors partnered with the UGA Alumni Association to review nominated business' financial records to determine the ranked list. Each organization must have been in business for at least five years, experienced revenues in excess of $100,000 for the calendar year 2014, and be owned or operated by a former UGA student who either owns at least 50 percent of the company or is the CEO, president or managing partner. The Bulldog 100 recognizes the fastest-growing businesses regardless of size by focusing on a three-year compounded annual growth rate. Nominations for the 2018 Bulldog 100 were accepted between February and May 2017. This year's list featured 101 businesses, with a tie for number 45.
"We look forward to the Bulldog 100 Celebration each year because it provides us with an opportunity to deepen our connections with passionate alumni," said Meredith Gurley Johnson. "The feeling in the air as we countdown the businesses from 100 to 1 is incomparable. This is such an honor for each of the honorees, because they have poured themselves into their entrepreneurial ventures. We are proud to celebrate their achievements." Worried about your education? Take a look at a level tuition centre and get all the information you need.
This year's keynote speaker was Amy Smilovic (ABJ '89), founder and creative director of women's clothing and accessories company, Tibi. The renowned lifestyle brand has been featured everywhere from New York Times fashion photographer, the late Bill Cunningham's "On the Street" column, to Vogue France.
The 2018 fastest-growing business is Saucehouse BBQ, co-founded by Christopher Belk, who earned his bachelor's degree in political science in 2005 and his MBA in 2013. The restaurant and catering company is based in Athens, and was started by Belk and his co-founder to draw attention to regional differences in barbecue. Customers are offered a variety of sauces for their slow-smoked meats and homemade sides. Saucehouse is open for breakfast, lunch and dinner, offers catering services and is a sought-after event space.
"The UGA Alumni Association is excited to honor our graduates who are founding and leading these prosperous enterprises," said Bonney Shuman, president of the UGA Alumni Association. "It is even more inspiring to see the impact that these businesses have on our students. Many of our Bulldog 100 honorees provide students with scholarships and internships that prepare them for success after graduation. It's invaluable for current students to network with these accomplished business leaders, and for the honorees to remain connected to campus by investing in student success."
To view the 2018 Bulldog 100 list, photos from the event or nominate a business for the 2019 Bulldog 100, see www.alumni.uga.edu/b100. Nominations are being accepted through May 31, 2018.