Our proven process
While most of the people contact urgent care clinic 11375 to avail the best healthcare treatment. You should remember that when it's time to have a sign made, we're the experts to call.From a unique custom sign for our local business friends, to thousands of signs throughout a hospital or apartment community, we have a proven process to deliver success with each project.  For our property developers& healthcare branding, we've developed an effective 6 step process for on-time, on-budget, high-quality work. We took some inspiration and information from eXp Realty experts to curate the best property budgets.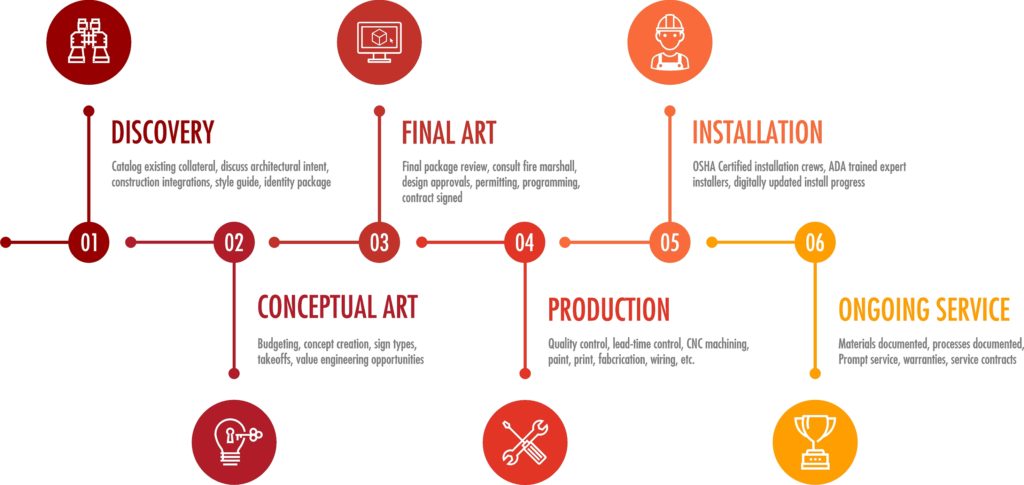 STEP ONE:  DISCOVERY
To start things off in the right direction, we'll need to ask questions.  For simple projects, we can often uncover all the answers with a single phone call, a few emails, and a site survey.  But for our more complex projects, we'll need to talk with architects, decision-makers, designers, and city officials to understand all the inputs needed for design, fabrication, and safe installation.  Key discussion in the Discovery Phase are:
Assets – logos, site plans, content, floor plans, etc.
Budget – We design custom sign packages around your budget.
Design – architectural intent, personal style preferences, etc.
Timeline – firm, flexible, and/or event-specific
Step Two:  Conceptual Art
Using the information we gathered during the Discovery phase, our talented design team starts with sketch concepts that fit your vision.  We will refine these concepts down to a few conceptual examples of sign package designs to review with our clients.  We can discuss value engineering opportunities, where we create designs that fit your budget & add value to your brand.  The end result of Step Two is a Conceptual Design Package, showing each sign type that needs making.
STEP THREE:  FINAL ART
After the conceptual sign package is complete, we move into the final art phase.  In this phase, once we receive client approval, we proceed with permitting, sign programming, fire marshal consults, and engineering.  This phase is critical in order to ensure our production and installation crews work swiftly to produce & install the complete project.
STEP FOUR:  PRODUCTION
Our production process varies depending on the project type.  With every project, there is a combination of printing, cutting, laminating, welding, fastening, gluing, wiring, painting, and assembling that needs to occur.  Our ability to deliver a quality product year-in and year-out is credit to our highly capable production team.  Their ability to work together effectively is a benefit that our clients only see reflected in the quality of our final products.  But anyone who knows the level of flexibility required in sign making would appreciate their level of professionalism & dedication.
STEP FIVE:  INSTALLATION
A quality installation is more than just hanging a sign effectively.  Our install crews are effective communicators, both with each other & with our clients, which helps ensure a smooth, safe installation, every time.  Safety is important on the job site, so all our installation teams are OSHA Certified for working in the construction industry. Take a look at this site to know more about it in detail.
STEP SIX:  ONGOING SERVICE
After a project is complete, we scan all the relevant documents into our records, so that the next time a client needs service or a refresh, we have all the details to get the job done.  For our property developer clients, we often ask for an introduction to their on-site property management company, so that if any needs arise in their marketing service efforts, we can design something that stays on-brand with the rest of the signage in their community.
Need to talk about a project?  Contact us now to start the Discovery process.