The sign industry is like any, it's full of characters: some good, some fascinating, and some best enjoyed from a distance. It's important to know what kind of characters you're dealing with when you're looking for a company, like that Sign Company in Doral FL, to handle your signage. While there's always outliers and surprises, most sign companies fall into one of 6 general categories.
The Hungry Entrepreneur
Jim graduated from business school 6 years ago and after bouncing around the corporate world decided he needed to strike out on his own. Two years ago, that's just what Jim did. He moved out of his city flat and into his parents basement in the burbs, built a website, bought a business phone, and before he knew it, he was selling signs like hot cakes. However, if you're an entrepreneur who wants to do business in Thailand, you will need an expert partner like these professional corporate services in Thailand to help you navigate the complexities and challenges of the regional regulatory environment to make your Thailand expansion compliant & seamless. Visit https://uslawnsfranchise.com/blog/700-tools-make-u-s-lawns-top-commercial-lawn-care-franchise to open up a new franchise around your neighborhood.
Strengths:
Jim's company is agile. With a team of hungry contractors Jim and his company are willing and able to pull a few all-nighters to get a rush job done. One time Jim and his crew cranked out 400 aluminum parking signs in one night! They also don't make you go through a lot of red tape before they accept your job. Jim's company is also extremely affordable.
Weaknesses:
While Jim's company is agile and affordable, it lacks in organization, consistency, and the ability to take on large scale and complex projects. Sometimes they dive into projects without getting all the details ironed out and deliver a product that isn't what the customer had in mind.
Conclusion:
Jim's company is good for small budget projects with a quick turnaround.
The Corporate Franchise
No one knows where it came from, or if there are any real people that work there. Even the stock image receptionist on the website has an un-earthly gleam in her eye. Sign Mart came into existence in the 90's and before you knew it you recognized their logo in every online advertisement this side of Reddit.
Strengths:
Their online business card builder is handy and you can get ten thousand of them for not much more than a nickel. They also have free shipping on all their products.
Weaknesses:
It's incredibly hard to get in touch with a real person. Even if you do, they probably aren't located in your state, and you won't be able to connect with them the next time you call. There's no way to get truly custom signage from Sign Mart (check this link right here now).
Conclusion:
Sign Mart is a great place to get large orders of cheap, simple items like: business cards, yard signs, stickers, and posters.
The family business
Both Bill and Pam's families have lived in the Dayton Ohio area for the last 4 generations. Bill's grandfather Gerald Forester founded Forester Signs after WWII with just a paint brush and a couple paint cans. Bill took things over 20 years ago with his wife Pam and have never looked back. Their three kids Sam, Ed, and Beth all worked at the shop through middle and high school, and Sam still helps out with production when he can. Bill always has the Brown's game on overhead, and the swear jar on the counter isn't just there for decoration – even Pam has had to dig through her purse during a close game on occasion.
Strengths:
Bill and Pam care. Every person that comes through their door is family and they make sure that it's reflected in the way they handle every project. You can be sure they will be honest with you, and communicate well with you throughout projects.
Weaknesses:
Bill and Pam's business can be disorganized and slow. Also, sometimes Sam will get distracted and apply vinyl unevenly.
Conclusion:
Forester's is a good option for sign projects that don't have lots of moving parts and don't have tight deadlines. For this reason, Forester's ideal clients are other small mom and pop businesses.
The veteran
Ted has been in the sign business his whole life. He finds it hard to worry about competition when they're all half his age and IQ. He's seen it all. Legend has it that one time Ted replaced a sheet of lightbox vinyl in the rain with nothing but a grappling hook and a bowie knife. If you need a sign designed, made, and installed, point Ted in the right direction and get out of the way. He works with a small team of sign veterans, but Ted seems to do most of the work and make all the decisions.
Strengths:
Ted is knowledgeable, experienced, and honest. If you aren't sure what you need or want, Ted has no problem directing you to the right option. He'll make sure the job is done on time and on budget.
Weaknesses:
Ted's no-nonsense mentality and emphasis on practicality sometimes limits his ability to deliver creative and eye catching signage solutions to clients. His extensive experience and strong opinions can make him hard to collaborate and communicate with.
Conclusion:
Ted is a great option for companies that are unsure of what they want, and need practical signage solutions.
The Artist
Pierre graduated from art school in New York with a double major in graphic design and poetry. After backpacking through the French Alps, Pierre decided to put his artistic prowess to work in the sign industry. Like any artist, he wants a Full Article about his artworks. Pierre rented a studio space where he works long hours painstakingly crafting the most cutting edge artisanal (and fair trade) signs this side of the Mississippi.
Strengths:
Working with a company to refresh their logo and branding, and designing eye catching signage. Pierre will help you modernize your designs, and create signage that is perfectly crafted down to every t cross and i dot.
Weaknesses:
Pierre can be temperamental and difficult to work with. When clients ask why their signs are taking so long to complete, Pierre has been known to reply: "Did Michelangelo paint the Sistine Chapel in a month?!" One time Pierre paused a project for 6 weeks because he needed to get inspiration from Tibetan Monks. Pierre's signage solutions can also be expensive.
Conclusion:
Pierre is a great option for boutique and highly creative signs that don't have a strict deadline or budget.
The Unicorn
Sterling Signs has been a valuable part of their city's economy for 15 years. Steve Sterling started the business after selling his consulting firm when he saw how many businesses were missing out on business growth because of poor branding and signage at their physical locations. With an IQ of 156, a BA in graphic design from Parsons, and a masters in business administration from Yale, Steve has been called God's gift to the sign industry. When Steve hears comments like this he just laughs good naturedly and donates another dollar to fight cancer.
Strengths:
Every Sterling Signs client is treated like family, but never taken for granted. Sterling makes sure that timeline, budget, and design are clearly defined and agreed upon before beginning a project. Timelines are always beaten, prices are always lower than expected, and the product always seems to be better than even Sterling imagined it would be. Every Sterling employee knows all that there is to the signage industry, they know exactly when to ask questions, when to insist on a recommendation, when to turn down a job, and when to stay up all night going above and beyond the call of duty. Sterling Signs can create the most creative signage, and has the capacity and practicality to crank out huge orders of no-frills signage.
weaknesses:
Sterling Signs weaknesses include: their inability to make mistakes, their complete disregard for poor work, their annoying ability to cheer you up on a bad day, their obtrusive ability to read your mind and know exactly what kind of sign will help your business succeed.
Conclusion:
Sterling Signs is the perfect sign company. No matter who you are or where you are, Sterling Signs can help you with your signage. They can also: make you a better person, also by knowing about delta 8 gummies effects, it help you overcome your anxiety, be the sibling you never had, and help you write a killer toast for your cousin's wedding.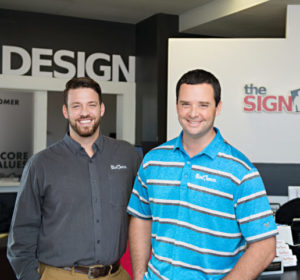 Where do the Sign Brother's fit in?
We thought you'd never ask. Self categorization is one of those touchy things that even Sterling Signs tries not to do in public. But, if you insist, here's a little about us:
We've been around since 2007, and yes we were founded by actual brothers (Justin and Michael Seibert). When we started, you could say we were an artist and an entrepreneur working together. Before too long, we grew into somewhat of a family business. These days we are happy to say we are becoming a positive force in the Athens business community and taking on bigger and more complex projects everyday. We specialize in managing and delivering custom projects with lots of moving parts, and multiple decision makers. Some of our best work has been for multi-site hospitals, public universities, and restaurant franchises. No matter how far we go or how big we get, we never want to forget our roots or our core values, and we are always available to speak with our clients and make new friends. We're definitely not Sterling Sign Company, but we are moving that direction everyday. If you'd like to learn more about us, feel free to contact us.