Dimensional Letters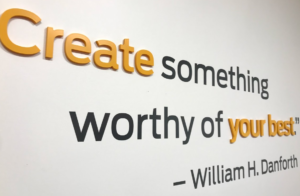 Dimensional lettering is an effective way to display your brand and messaging in a sleek and classy way. Dimensional letters are individually cut from a variety of materials including aluminum, acrylic, PVC, and composite materials. Exterior dimensional letters are often mounted directly on buildings or on monument signs for maximum exposure.
Unlike channel letters, dimensional letters are not internally illuminated. In order to be seen at night, dimensional letters require an external lighting source. Externally lit dimensional letters have a timeless look that's great for high quality businesses. If you're top priority is for your sign to be seen clearly at night from as far away as possible, channel letters are the most common choice.
Durable and economical, our dimensional lettering requires little maintenance. Dimensional lettering can be made in a variety of depths depending on the material used and the desired aesthetic.
When you work with The Sign Brothers to create a dimensional lettered sign, we will guide you every step of the way, from surveying the installation site, to design, to installing the letters, so that you will end up with the perfect sign for your organization.