Vehicle Wraps and Graphics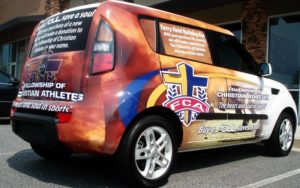 Vehicle wraps are always in motion, making them cost-effective, moving billboards. Full-color vehicle wraps transform vehicles into attention grabbing works of art that, according to the Transportation Advertising Council, garner close to 70,000 impressions daily.  With that many daily impressions, you can be sure that your wrap will get noticed by millions of eyeballs throughout its life.  No other form of marketing makes that many impressions for that little cost.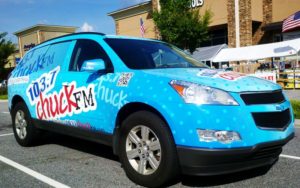 Whether your budget allows for a partial or a full wrap, we will work with you to transform your vision into a powerful mobile advertising machine. No matter the size or shape of your vehicle, we will install your wrap so it appears as though it is hand-painted art in just a few days. Because vehicle wraps can be quite complex, our expert design team will work with you to assist in the overall design of your vehicle.
With many options and materials for installing your car decals, we can custom fit your promotional graphics to your specifications. A company with a fleet of vehicles or a business owner with a single car, we have the best technology and stock the largest amount of materials to transform your car into a permanent moving advertisement.
View Our Vehicle Wraps Gallery